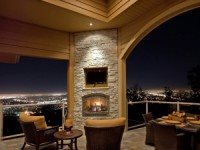 You've worked hard for everything you have – and, at the end of the day, you want to enjoy it, right?
I don't blame you. In fact, I want to help you get even more out of your free time.
Want a taste of the good life – on the daily? A backyard remodel could be your answer to living it up without dragging your finances down. Just think: When your yard is your favorite place to escape, there's no traffic to fight. No plane reservations to make. No schedules to keep. It's there when you're ready, or even when you're not. Today's technology means that you can control your spa's heater from your office so that when you walk through the door it's at that perfect temperature that melt's the day's stressors away.
But maybe you're not much for soaking. Perhaps your idea of a good time involves great beer, better friends and a game on the TV. An outdoor theater room can promote regular family movie nights; football and cigar afternoons with pals; barbecuing at sunset and so much more. What you need to make it happen: a big covered patio or cabana, auto roll-down shades, a killer sound system, a giant plasma TV and a very experienced contractor who knows how to pull all those elements together on time and on budget.
Define what you love and cultivate a space that best encourages your passions. I'm here to help when you're ready!